&nbsp

Story of

22/08/2022
speed up embed search
add more images

18/05/2022
add settings/path/method "embed" for words embedding
tree request can use "method" too

20/01/2022
improve maps

better UI for maps
more precise maps drawing

force directed graph

fix forces system
max 64 dimentions

add api/sandbox

23/12/2021
improve maps

use of Antialiasing
dimentions choice
add maps_grid URL

force directed graph

add proportional crop force value
add anti-flickering system
generalise to n dimentions

23/11/2021
faster computation
now as unicode
truetype2 fonte
better division

13/11/2021
add auto center
2 pt box
auto label

08/11/2021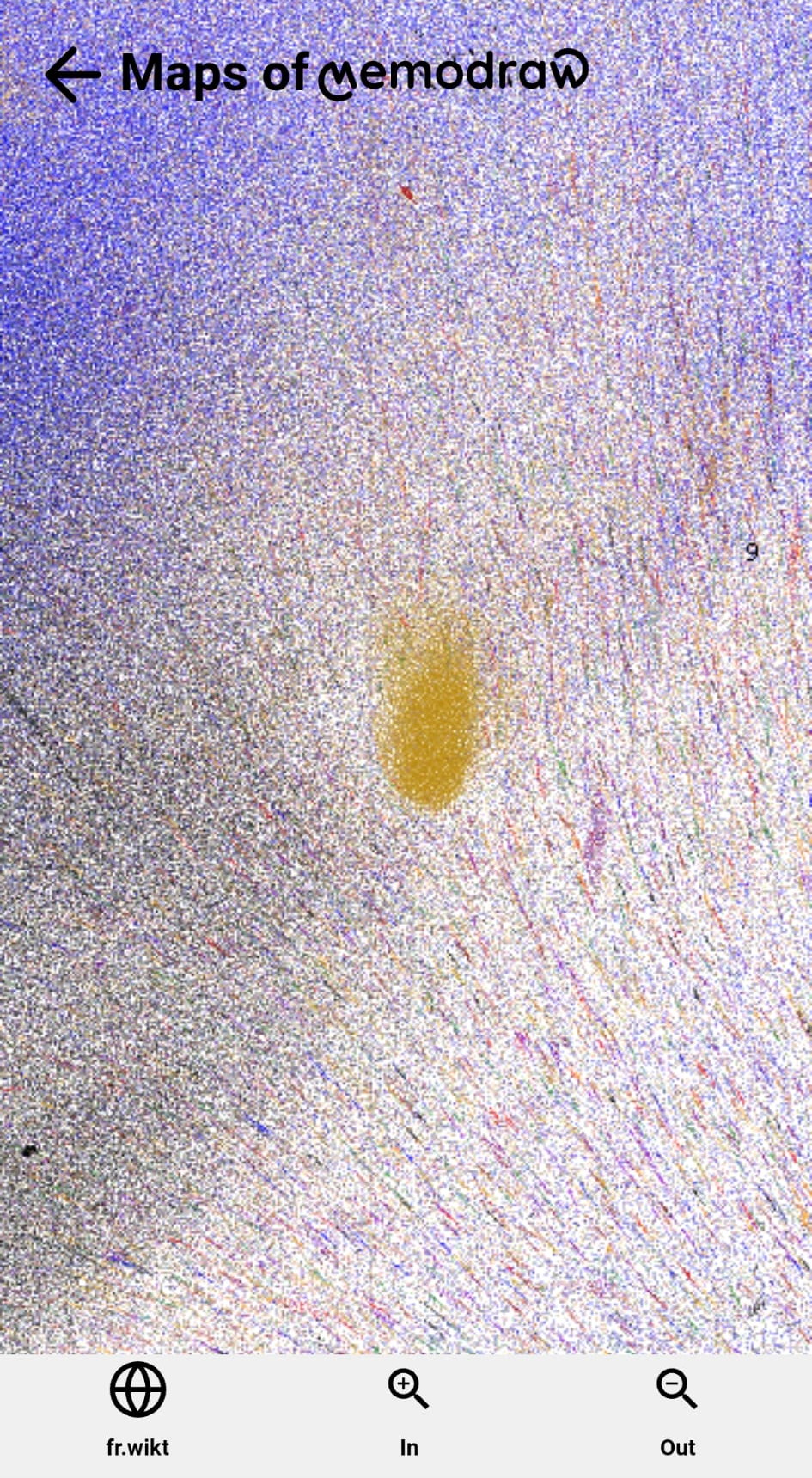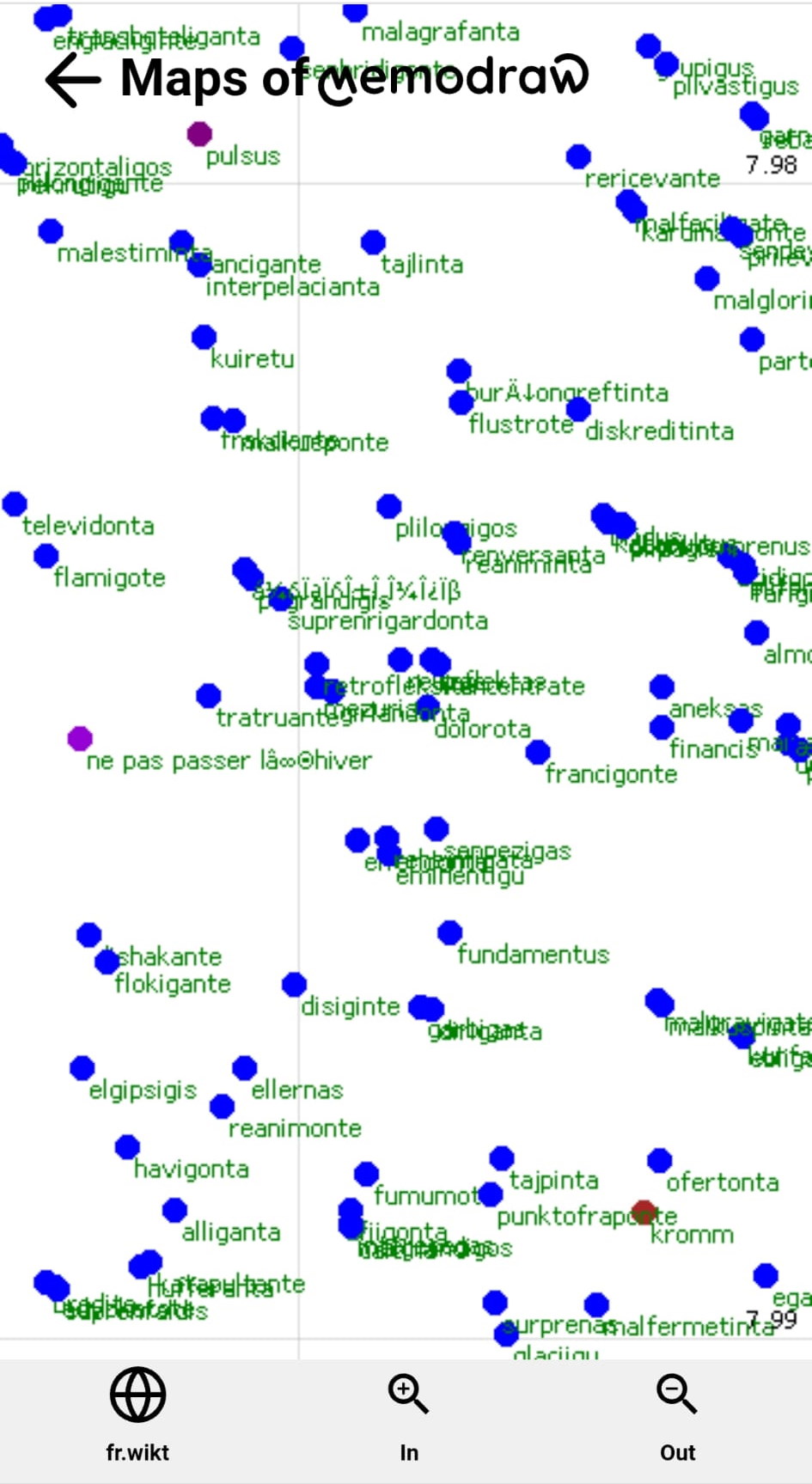 28/10/2021
add path & tree method distance
add cluster background
add blinking source & target

25/10/2021
Memodraw now use Force-directed graph:

(More informations)


01/09/2021
Example of use of Memodraw API's in the field of Digital Humanities.
The Laboratory of Digital Humanities of the Argentine Center for Scientific and Technological Information of CONICET.



The general idea is to contextualize the elements
of this historical document.

Here a menu opens on a point of interest of the document:
"Virrey" is an important character in the story,
he represents a king in a viceroyalty,
kingdom or colony conquered.

If one is not familiar with the military and colonial period in Latin America;
then it is interesting to see his relation with "Vicealmirante"
(which is a military rank).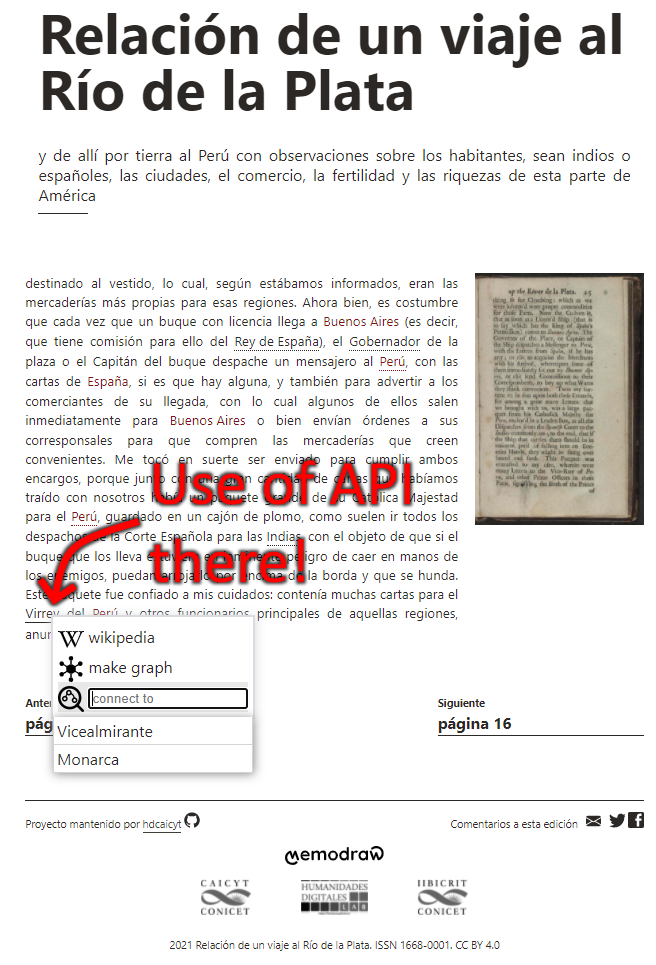 «Relación de un viaje al Río de la Plata»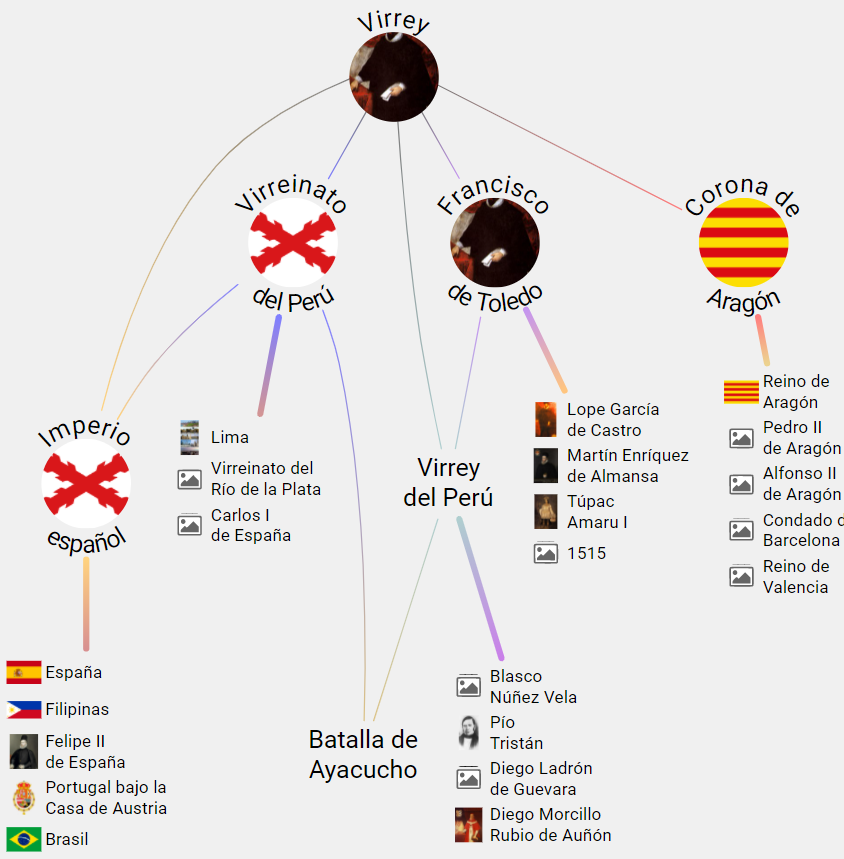 who is Virrey?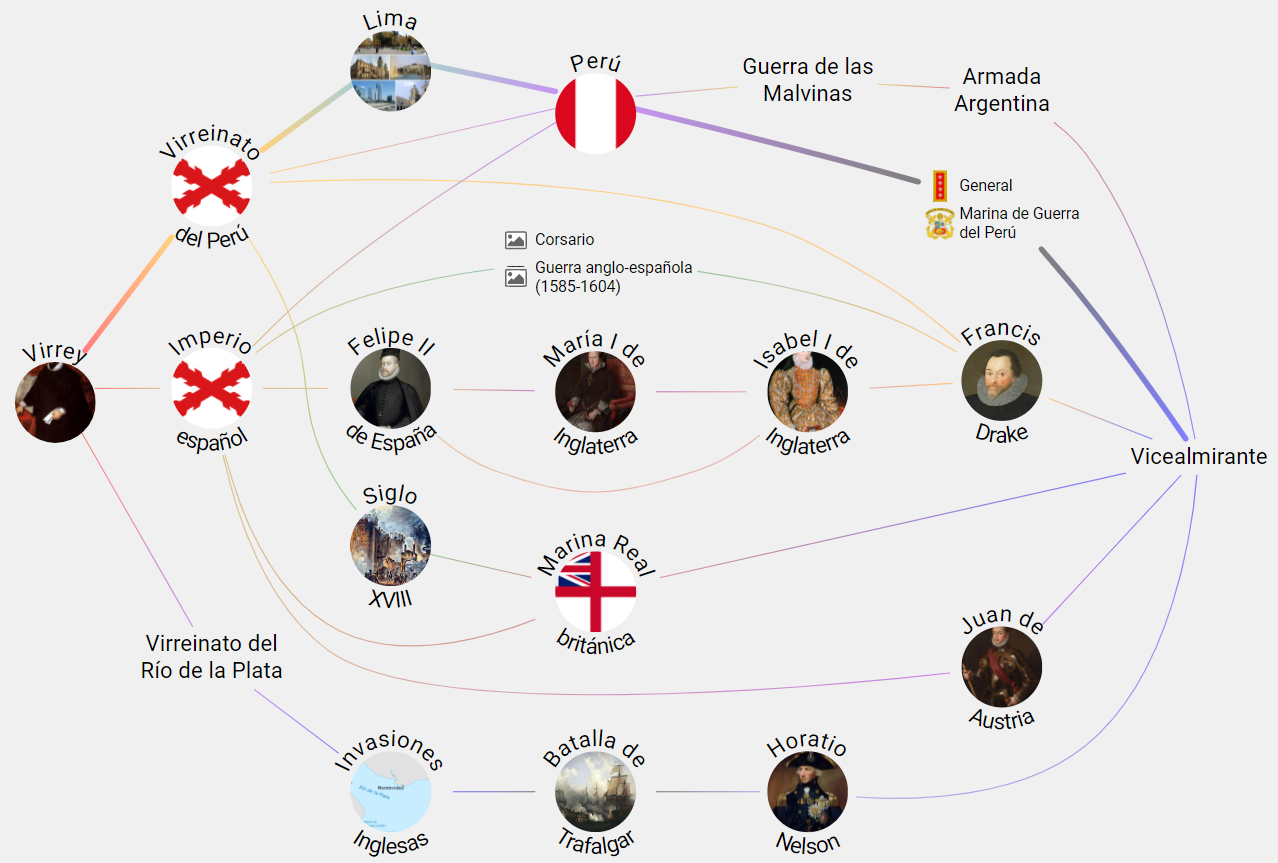 relation between Virrey and vicealmirante?


Everyone is free to use the API's on their website as well!

19/08/2021
update API (completions)
add /story
use API on /best, /faq, /api

16/08/2021
It will have required 8 days of calculation for the first versions of Force-directed graph.
I thought the annimations were more meaningful to understand the logic of this type of calculation.
Everything happens as if it were a physical simulation!


fr.wiktionary (143K nodes)
The items on the outside are the unrelated item.
They are therefore indefinitely pushed back to the confines of the universe!

fr.wikipedia (37K nodes)
One can notice strings, it is in fact the name of the asteroids which one logic of predecessor and successors are the cause!
02/08/2021
add API for external integration of Memodraw
change default LOD (with less items)
imporve UI: circleMeni, bottomMenu & tooltips

13/07/2021
improve detect compatibility
use circle menu
add theme menu (on empty long press)

02/07/2021
detail on path more precis (by quanta of 10 links)
sidemenu more litle
icon update for install

30/06/2021
improve circle space
homogenize all font (all use "roboto" inculding graph)
add ellipsis like on title
fix safari UI sidemenu
fix result empty
normalize dist & lod on context or label nod
add linkLabel "context(best)"
reorganize sidemenu with settings/others
simplify tooltip on node & link
title sep now can "switch"

18/06/2021
circle preset now can be multi-lang
circle preset now as default
change tag decoration according to presets
bottom menu without border (if free space)
add language button on title
sideBar onpen apply blur on background (except on settings)

13/06/2021
add preset circle, thrumb and indepedant dark mode
share add picture now
export as PNG
add sub-tree on UI combo (desktop only)
fix link line collision with border or fill is any

27/05/2021
add render minimal
add preset params as "minimal/colorful/drak/custom"
add infinit progress during completion time
back or esc close popup
update best

30/04/2021
add service worker for install & cache
fix l2r sidemenu
fix titke ui & fist letter upper
change manifest display as standalone (like other application do)

26/04/2021
23/03/2021
add url options fixVizAscii=1 (could be 0, 1, -1)

18/03/2021
use geoloc for autoEntry
fix label of the first links
optim first time launching
fix visual sidemenu artefact
fix menus for all languages
update viz.js to v3.4
fix title validated and firstCompletions

05/03/2021
update viz.js from v1.8.2 to v3.3.3

02/03/2021
fix FF share
fix sub entity
update graphviz v1.7.1 to v1.8.2

26/02/2021
use the more specific language in completion & tree and path (ex.: en-ca)
update completion on multi-lang (with all flags or label, tooltip)
fix language ui artefact with languages (waiting, menu's)

10/02/2021
add new lang for UI: ar, ceb, it, ja, nl, pl, pt, ro, ru, sv, uk, vi, war, zh
apply UI change in RightToLeft direction language
improve UI menu interaction (all the line activate the control)
add slider description on menu
update language selection with autocomplete
side menu more beautiful
change entry separator from "-" to "."
"best" more faster (lanzy loading)
enlarge completion size & visibility

23/12/2020
add wikidata
add descriptions
add UI for "language and filter"
simplify menuEmpty

04/08/2020
image more bigger & cover
result more clean

29/07/2020
add settings completion
fix elastic
new instance on midle clik of icon (top right)
fix terminal cases with noLinks or/and noInvs
add red caret on completion search

16/07/2020
add fun animate logo on waiting
improve tooltip & adaptation of traduction (mobile/html criteria)
optim title resource (preload)
optim flags resources
check prerequist
fix cash an time optim commpletion
use fetch api (@$.ajax)

09/06/2020
ui add hover an animate
fix FF ui
fix select
split settings and link it contextualy
update faq
add select on menu ui
toast with pause
clean ui HREF (remove some on then)
add min/max detail on tooltip
add help slider
change flags

14/05/2020
update UI icons
add selection mode (left click)
fix action crash (because of context)
fix tooltip link blink
update shortcut (Ctrl-A,F,Esc,Del)

01/05/2020
add delete on node or link
add menu empty
tooltip update
tooltip by long press on mobile

20/04/2020
LOD in float
fast result
more finest weighting algo

10/04/2020
fix completion result
update ui icon
request path faster

21/03/2020
implement globals interwiki system
ui update for: title, tooltype, flags, settings, scroll on completion
completion grouped and otim

05/03/2020
new UI: logo, home
update "best"
add setting/share/export
begin inter-wiki concept: extract globals
add scaling by LOD mode
optim size of index.html

14/02/2020
resume
new "double way" concept (when a link is not visible because of two way on & with same contexts)
fix UI link border spacing

07/02/2020
change margin to LOD concept
change icon as "waiting" when it occurs
add "best" page
tooltip homogenize (from/to aligned with limit lines. Same text on context or link)
fix show option on home page
fix FF svg height
grouped toast
fix traducation of "all options"
fix time-out as JS error
fix web sever when getFilesUrl not work

13/01/2020
fix working version of straight context (side & font-size)
show menu on link on resume
remove shadow effect on "context"
fix picking of links more biger
omtim bandwith cosumtion (with cache, css minimise, favicon direct sized, webp if possible)
fix shortcut toast message
improve gradient drawing
add text skin "filled"
fix switch context shortcut (Ctrl+C)
fix treeIn order by weight

24/12/2019
add tooltip
add menu on link
fix UI homogenization (font, zoom, close, content, greyed, group img, ...)
UI more "spacing"
fix new request clean up (close resume, default metrics)

13/12/2019
update images (4x more)
do localisation UI (en/fr/es or message)
remove UI autocomplete on search bar
resume use "waiting ..." too
fix image menu (target)
fix resume (h2 & center)
fix FF
improve zoom

03/12/2019
add options bar on bottom with More, Less, Context, Share, Soom

28/11/2019
add es-wiki & es-wikt
4x faster download time ! (via compression)
multi-lang change fix
first home loading clean
improve data (by reading more template, #ifxxx)
imporve tree speed (by removing orphans)

07/11/2019
add context
better choice for images
multi-language support (fr-wiki, fr-wikt, en-wiki)
resume use context (with sections)
add key: G=Group C=Context +/-=detail
UI add general close, rounding form , grandient auto
UI improve graph color, request new skin
sidemenu settings with icon
sidemenu add
langue can be En Fr Es It De Hi Zh Ar Ms Pt Ru Ja Pa Jv

29/08/2019
add home
improve completion (faster and near)

27/08/2019
add side menu
fix apple device speed
double tab zoom

23/08/2019
uses https, www subdomain & redirect
update node menu
fix UI some text shadow on apple
fix UI cesures
fix UI memu overlay (vs title)

27/07/2019
improve add more result on tree mode and more efficient
fix path with limitation

26/07/2019
now weight is 200px (previously was 100px)

19/07/2019
update login and report ui
fix ios ui
fix ui title (when empty, or no result)
add title erase/close button
add step & distance max
update logo
update waiting ui
fix error message when request done without connection

27/06/2019
add report close
add login

26/06/2019
19/06/2019
fix select inputs (focus)
add menu icon
fix mobile overtaking text
fix web protect folder
add photo default
fix viz rendering

15/06/2019